Delivered

2005

Length

37 M

Interior designer

Luca Brenta

Shipyard

Vitters Shipyard
Ghost is a unique, lightweight high performance ocean runner yacht with one of the first super lightweight interiors we completed. At 122ft long with an incredible 165 ft mast, it takes its name from the striking metallic silver paint covering its carbon fibre hull.

Photos: Matteo Piazza
Awards
World Superyacht Awards: Best Sailing Superyacht Performance
Showboats International Award: Most innovative Sailing Yacht
International Superyacht Society Awards: Best Sailing Yacht Interior
Designed by Luca Brenta & Co. Yacht Design, it's innovative, fast in all conditions and focused. So unsurprisingly, the minimalist concept of Luca Brenta's exterior extends to Ghost's interior, designed by Piero Lissoni.
Minimal can be stunning as well as functional. The extended skylight panel that covers practically the entire length of the superstructure is both. The glass - which appears dark from the outside - is amazingly clear inside. Connecting stunning interior to stunning exterior, the visual impact is immediate.
Our interior is a modern, minimalist domain of flat square panels, changing textures and clean lines. Surprisingly, it is also warm and comfortable in every way – as requested by the owners.
Using space efficiently means the main salon can be quickly converted from main seating area to dining area.  Like everything else these features are hidden from the eye when not in use, ensuring an uncluttered working space.
There is ample room for eight having dinner or relaxing around the glass top table in the cockpit.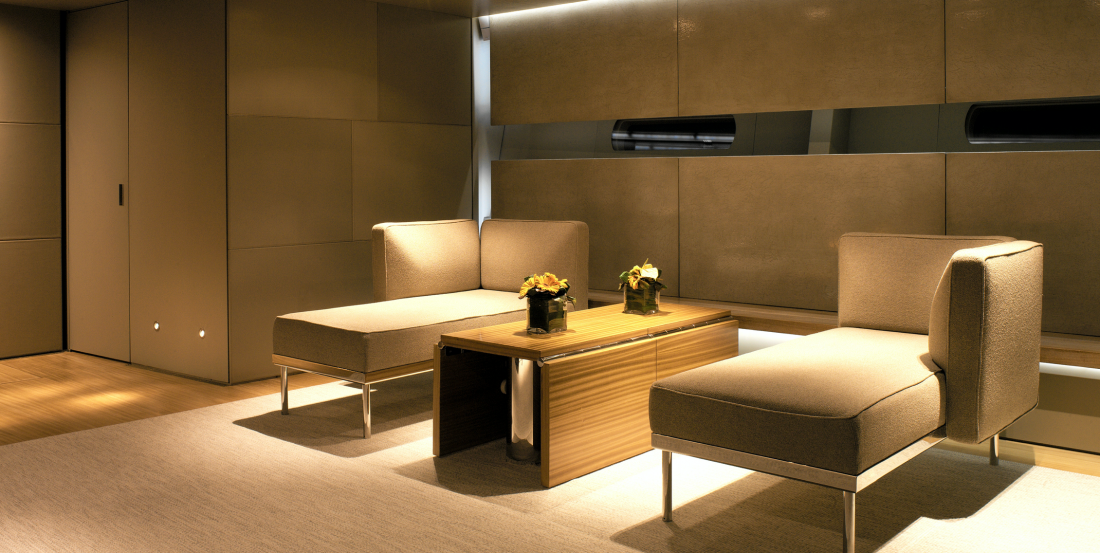 The galley and the crew area are in the aft part of Ghost. There are three crew cabins, a galley with crew dinette and a chart table which also contains the switch boards for all functions on board. 
All navigation panels can be covered to create a crew area totally in harmony with the rest of the yacht.
More New York loft than performance orientated workplace, the interior – like the exterior – divides opinions. They say beauty is in the eye of the beholder. In form, function and style, inside and out, we see beauty.